SAY THE RIGHT THING. AT THE RIGHT TIME.
That's what we do. And we do it right.
We provide a treat for the ears. You don't feel like reading any further? Well, simply listen here to find out what we have to offer:
Or take a look here to get an idea of what your conference or training course could sound like:
Simultaneous or conference interpreting

(sometimes also referred to as simultaneous translation, live translation or synchronous translation) is the – almost – simultaneous transmission of what has been said into another language.
Whether in internal training courses, workshops or at major events: we work with the utmost concentration and the highest level of precision, irrespective of whether we are being listened to by one or several thousand people. Each individual participant deserves to understand exactly what is being said in the original, meaning that they have exactly the same level of knowledge and can talk to one another on an equal footing.

Simultaneous interpreting is usually performed in interpreting booths in order to protect the participants against the background noises produced by the verbal output of the interpreters as well as to isolate the interpreters from background noises in the room. This means that they can fully focus on their work and achieve solid results.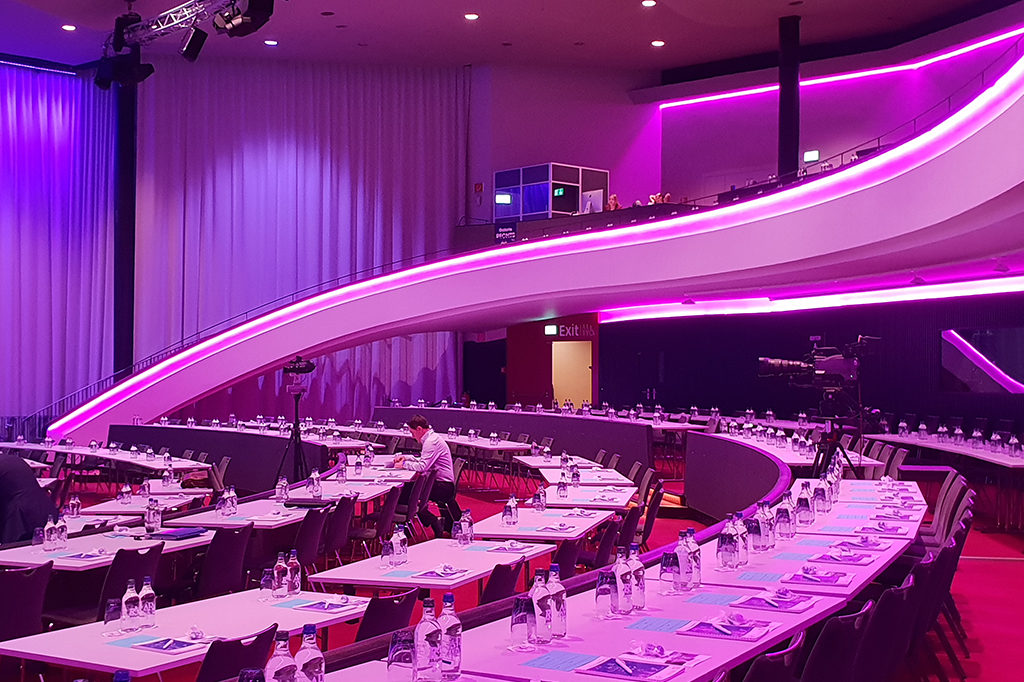 Here, for example, a booth at the Kursaal in Berne upstairs on the balcony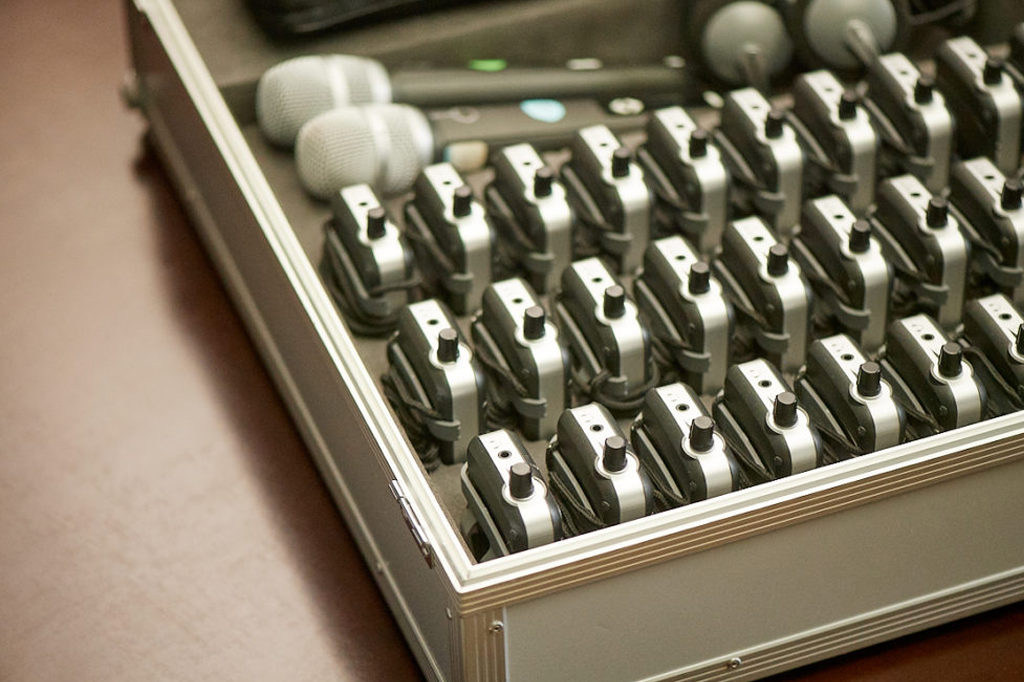 For small groups, it is also possible to work with mobile interpreting equipment.
Here, for example, the receivers and microphones of a mobile interpreting system.
Consecutive interpreting

is the delayed transmission of what has been said into another language. In order to remember speeches of up to 20 minutes and correctly reproduce the message in all its nuances, we use so-called note-taking. This is not derived from stenography. Instead, it is rather a very specific notation system. Just have a look
Liaison or escort interpreting

involves the provision of interpreting services on a small scale at meetings and inspections, sometimes simultaneously with mobile interpreting equipment.

Whispered interpreting

is performed without any technology and can only be provided for a very short period of time for one or a maximum of two listeners. The interpreters work on a simultaneous basis and whisper in the ear of the participants. As we have to be positioned close to the participants, and not to the speaker, this can make listening more difficult, which can have an impact on quality.

Would you like to know how this could work for you and what it might cost? Get in touch!
Don't you speak Swiss German?
Of course. We can do that too. We interpret all Swiss dialects. When we interpret from other languages into German, however, we speak what is generally called Standard or High German. So that everyone understands us perfectly.
As a consultant interpreter, I recommend what might be appropriate for you and what perhaps wouldn't fit the bill. I am of course also happy to explain to you why this is the case. And in doing so, I focus on your needs. I ensure that the interplay between you, the interpreters and the necessary technology functions smoothly – from the first step with the provision of an offer to the final stage with invoicing.
Should you desire further services in connection with your conference, we would also be happy to take care of these for you.
If you call on a single provider to satisfy your translation and interpreting needs, you save effort, time and money. When translating, we already familiarise ourselves with your topic prior to the conference and acquaint ourselves with your specialist terminology.
You can look forward to uncompromising quality assurance, complete reliability and absolute adherence to deadlines.
Would you like to know how this could work for you and what it might cost? Get in touch!